[Case study] Tubular coolers for emulsified asphalt
Tubular heat exchangers for cooling road asphalt emulsions improved the industrial process and helped recover a significant amount of energy
[Case study] Tubular coolers for emulsified asphalt
A pair of 2 tubular Aset / Barriquand heat exchangers installed on an application for the cooling of road asphalt emulsions for a big French construction group improved the industrial process and helped recover a significant amount of energy.
The asphalt is emulsified for process reasons
This client of ours intervenes on public works construction sites. The asphalt they use is emulsified (by supplementing it with water and additives) and is used, for example, as a wearing course of road surfaces (cold process surface coatings for road surfaces) or as a bond coat to assemble 2 layers of asphalt, in order to adapt to climatic constraints or to specific road traffic…
Asphalt emulsions must respect precise viscosity criteria; stability, adhesiveness, breakdown rate… to answer to certain implementation constraints (road surface, limitation of gaseous emanations …). On this client's process, the emulsions must be cooled from 105°C to 40°C.
This cooling installation also allowed our client to recover the energy necessary to assure the major part of heating the water needed for the emulsion (optimal temperature of the water for the mixture: 60/65 ° C).
A pair of tubular, mixed material heat exchangers
For this client, we proposed our pin pipe tubular technology; the "plates and gaskets" solution would not have been a good fit in this case considering the nature of the fluid and the temperature levels.
In order to meet the footprint constraints, we sized a set of coolers on two floors:
1 tubular heat exchanger which cools the fluid from 105 to 80°C (installed on the 1st floor) :
1 pair of superimposed heat exchangers, connected in series, to cool the emulsion from 80 to 40°C (installed on the 2nd floor).These heat exchangers are entirely designed and made in France, in our Saint-Priest workshop, in the Auvergne-Rhône-Alpes region. The emulsion flow rate is of 30t / hour with a total thermal duty of 1800 kW (evacuated on the 2 floors).
Hydrocarbons are not aggressive by themselves, but the addition of water significantly increases the mixture's acidity. We therefore chose to use AISI 316L stainless steel for all fluid-wetted parts.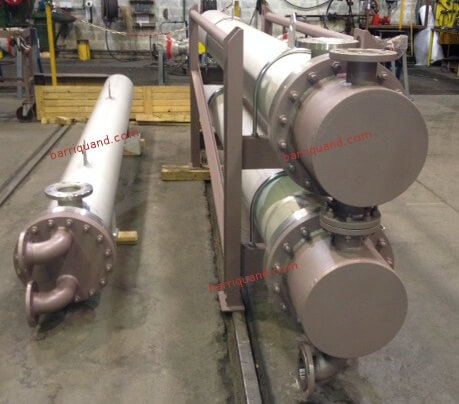 The process is improved while gaining energy
The tubular heat exchangers work well, they allowed our client to improve his emulsified asphalt production line and to optimize their implementation process.
The heat transfer between the hot asphalt emulsion and the cooling water (the cooling water is heated up to 60-65°C) also allows our client to achieve important energy savings on their hot water production (around 800 000 Kcal / hour).