PCV Platular® heat exchanger
The PCV is a very robust PLATULAR® welded plate heat exchanger with a high thermal performance.
It was especially developed for high pressure district heating networks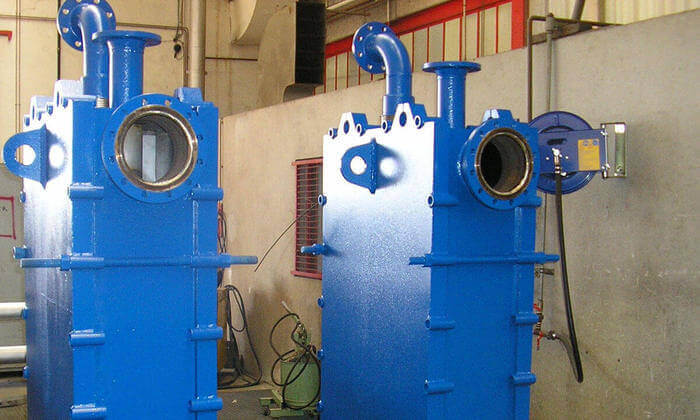 Pcv Platular® heat exchanger
ADVANTAGES
Excellent thermal performance
Robust and compact
Easily cleanable secondary circuit
Expandable bundle
No installation constraints
Embedded sludge trap
A high-performance heat exchanger for HP heat networks
Specifically dedicated to HVAC, this welded plate heat exchanger provides optimal thermal performance for superheated water substation applications (up to 11MW unit) or HP / LP network disconnections:
Temperature approach of 5 ° C between the secondary entrance and the primary exit.
Very low primary return temperature, optimized efficiency for cogeneration
Ex: 180 ° C => 75 ° C
90 ° C => 70 ° C
PCV heat exchanger design
Primary side
Stainless Steel « U type » Plate-pack with 2 mm thick plates
Self-expanding, it withstands pressure cycles
For pressures up to 32 bar
For temperatures up to 200°C
Secondary side
Circulation in the shell and between the plates
Easy opening even with Primary side under pressure
Integrated sludge receiver with drain
For pressures up to 10 bar
For temperatures up to 110° C
A minimum space requirement
With a floor area of less than 1m², the PCV welded plate heat exchanger is a compact heat exchanger that can meet all the installation requirements of district heating networks.
Horizontal positioning is possible in case of clean secondary circuit.