Platular® smart hybrid welded plate heat exchanger
Inventor of the Platular® smart hybrid welded plate heat exchanger technology, Barriquand has been developing it's know-how for industrial processes treating charged fluids…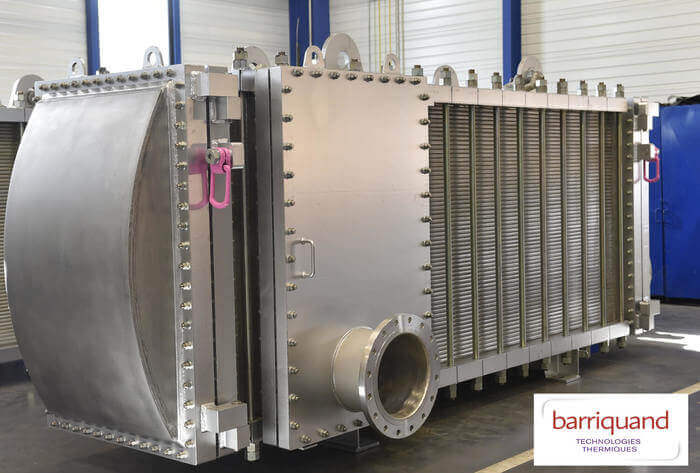 Platular® smart hybrid welded plate heat exchanger
ADVANTAGES
Exclusive patented technology
Custom manufacturing in France
For viscous and / or difficult fluids
Fully visitable and openable, easy to maintain
Platular® smart hybrid welded plate heat exchangers
The Platular® fully welded plate heat exchanger's thermal performance and minimal temperature approach is particularly suitable for exchanges on difficult, viscous fluids or fluids charged with suspended materials, but also for the condensation of vapor under vacuum (steam, C.O.V…). Thanks to the multi-pass design possibilities on each circuit, the Platular® is also well suited for lengthy exchanges.
The most flexible counter flow heat exchanger on the market
The Platular® is a compact heat exchanger that brings many advantages in terms of the volume of treated fluids and space required for installation. BARRIQUAND has developed 5 types of exchange stream with different geometrical characteristics offering complementary thermal and hydraulic performance levels and enabling a low thermal approach and minimum pressure drop.

All types of heat exchange (counter flow heat exchanger in general):
Liquid / liquid
Loaded liquids
Condenser
Evaporator
Interchanger
Reboiler
Steam heater
Gas / gas (incl. air to air heat exchanger)
Gas / liquid
Air / water
Overhead reflux condensers
Different types of Platular® smart hybrid welded plate heat exchanger (fully welded heat exchanger, welded block-type exchangers):
Type X : Especially designed for dirty fluids, these units can really generate important savings on cleaning and maintenance activities.
Type IJS: These units are part of the first generation of Platular® heat exchangers, the first units were introduced in the sixties.
Type PCV : Specially developed for district heating networks, this extremely robust Platular® heat exchanger has a high thermal performance.
Immerged plate type: Can be made on request in numerous formats.
Internal heat exchanger (X type or IJS type): fit into distillation column.
Cleaning Platular® smart hybrid heat exchanger
Platular® smart hybrid welded plate heat exchangers are designed to reduce maintenance costs and are particularly easy to maintain:
The corrugated plates' profiles increase turbulence with local variations of the fluids' speeds, this lowers encrustation.
This said plate profile enables you to program efficient chemical cleanings of your heat exchanger without the need to open the units.
The absence of gaskets at the exchange surface's level (between the plates) greatly facilitates their maintenance. The unit's only gaskets are the flat gaskets on the doors, and they are designed so as not to be changed at each opening.
Platular® exchangers are equipped with hinged doors enabling them to be rapidly opened in order to perform mechanical cleaning with high-pressure cleaners. This practice is generally used during plant shutdown periods but can be done at any time, if required.
Platular® exchangers do not require back-flush installations.