Case study: energy saving in agro-industry
A food processing industry based in North Africa asked Barriquand to replace heat exchangers dedicated to energy saving and oil cooling.
Case study: energy saving & production optimized in agro-industry
A food processing industry based North Africa has asked Barriquand thermal engineers for replacement of heat exchangers dedicated to energy saving and oil cooling. Customer issue: improve reability of production which was impacted by too heavy maintenance.
African leader in his business, CEVITAL is an industrial group focused, besides other fields, in vegetable oil production, sugar and soft drinks productions.
Plate & Gasket Heat Exchangers are one of the main part of the process line to elaborate oil: neutralization, discoloration and deodorization. These equipment are designed to achieve the process, but also to optimize the energy consumption by including economizers, heaters and coolers.
Decrease shutdown time and frequency
In oil process, heat exchangers gaskets are operated at high temperature (up to 140 / 160°C) and / or with frequent temperature variations so that their lifetime is short. The impact is an increase of shutdowns for maintenance. As a consequence, production losses, maintenances costs and spare parts costs are impacting heavily actual cost price. Replacement of previous heat exchangers was challenged by two targets: reduce maintenance cost and time, and also enable an easy access both oil and water side for easy cleaning. Last, but not the least, the possible footprint on site was reduced, so that a compact and easy access solution was required.
Thermal efficiency and easy maintenance: our Platular® solution
Thanks to our design office and following a site visit of our thermal engineers, we were able to propose a tailor-made solution fully adapted to site constrains. Several Plate & Gasket Heat Exchangers have been replaced by fully welded wide gap heat exchangers of our patented Platular® design. Gasket free and really free flow, the Platular® type H E can be operated with high temperature fluids, allowis an increased resistance to fouling, erosion and wear. The DIXP design type has been supplied and installed: openable and cleanable on both streams thank to four doors.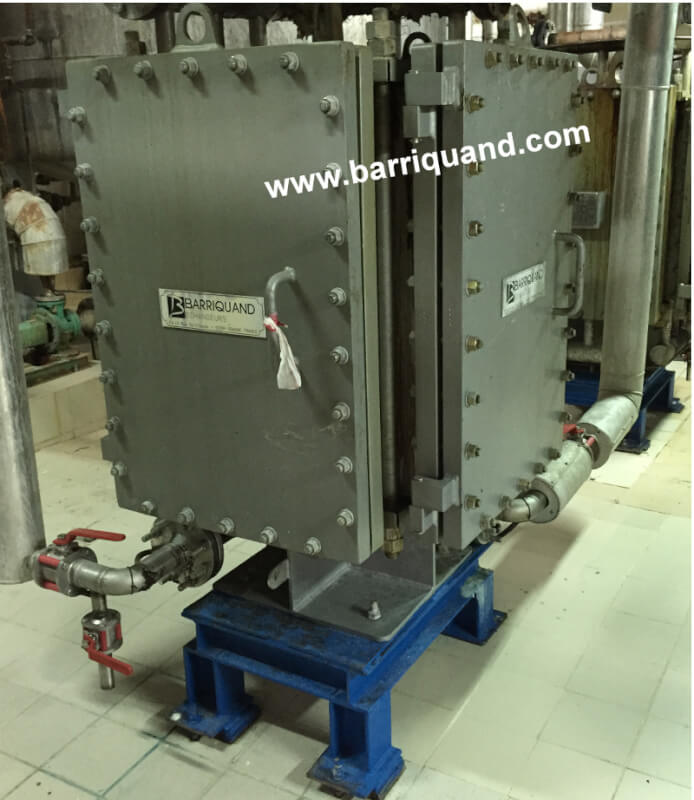 Our priority: a long term satisfaction of our customer
Operating since 18 months, the Platular® heat exchangers perfectly achieve their thermal duty, and maintenance constrains and costs have been reduce to nearly zero. Thanks to the specific design and easy access, our customer has experienced much longer time between cleanings and very short stops for cleaning, so that productivity of the whole unit has significantly been improved.